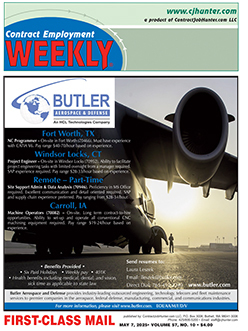 Read a sample issue of Contract Employment Weekly Magazine! (Requires Adobe Reader.)
A Subscription allows access to our full array of Services.
A Guest Membership is free of charge and gives access to the contact information in the job listings.
SUBSCRIBERS CAN SEARCH OUR ENTIRE WEBSITE BY KEYWORD --If you would like to find something about a specific topic on our site, go to the Site Search page and enter the subject you would like to find. Subscribers can even search archived letters, articles, and editorials. Note: The Site Search does not search our jobs or resume databases or the PDF magazine.